AHI Adds 1800 Ton Hydroforming Press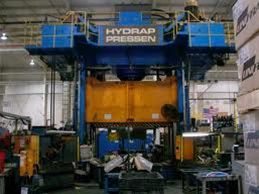 American Hydroformers Inc. has been supplying parts to the automotive industry for nearly 10 years now. Hydroforming gives our customers the ability to specify lighter weight, stronger parts with the benefit of removing multiple manufacturing processes.  One thing we have learned over the years, if you are going to serve the major businesses in any industry they must have complete faith in your companies ability to supply their demand.  Most clients will not even give you the time of day if you do not have redundant press capabilities to continue supplying their production schedules and or production lines.  Currently we have 3 hydroforming presses and are in the process or adding to it.  We are constantly looking for ways to improve our processes to remain competitive and expand our product offerings. We have recently taken possession of an 1800 Ton Hydrap Pressen Hydroforming Press that is in the construction process at our Ft. Wayne, IN facility.  This press will gives us the ability to add another hydroforming operation to our manufacturing process or it can also serve a pre-forming function to one of our other hydroforming presses.
We also rely heavily on our in-house tool and die shops that give us the ability to customize dies and maintenance them accordingly.  We run many components and parts for other Tier 1 suppliers when they are overwhelmed, sure we help out our competitors at times, but we have come to find that building a relationship with everyone in the industry is much more beneficial for everyone.
Unlike other metal forming techniques, hydroforming allows for increased part strength, lower part weight, and greater design flexibility, while also improving overall part quality. Contact us to see how you can reduce your tooling and part costs.
Error: Contact form not found.
---
---
---