American Hydroformers Employs Faro Edge Scan Arm HD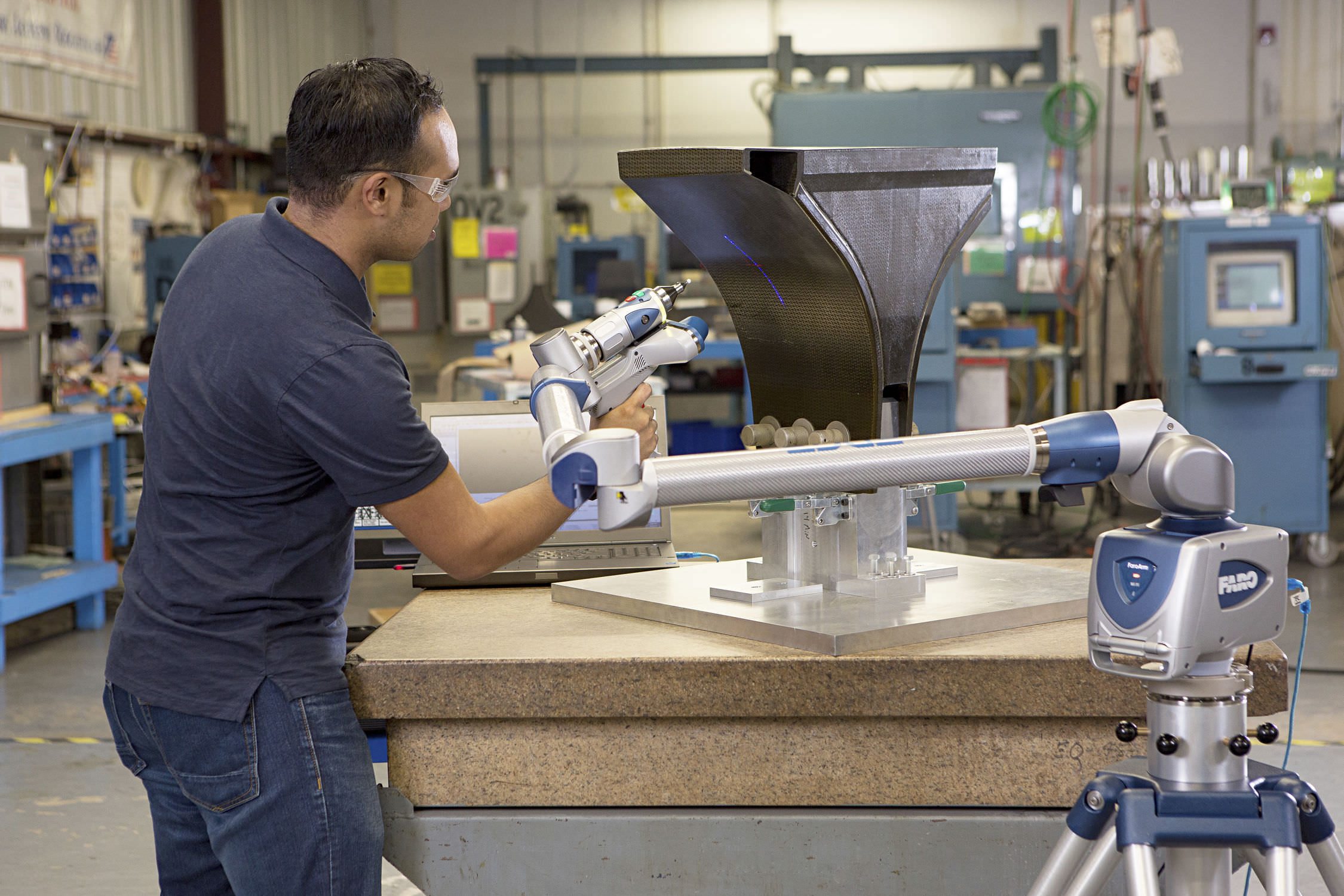 At American Hydroformers we recently obtained and implemented a new Faro Edge Scan Arm HD that enables enhanced product development, inspection, and quality control. As a 3D scanning and probing device, the Faro Edge Scan Arm HD provides capabilities such as rapid prototyping, reverse engineering, 3D modeling and rapid point cloud collection and comparison. Ideal for scanning challenging materials, the Faro Edge Scan Arm HD also allows for contact and non-contact measurements.
Rapid Scanning Speed
High Definition Data
Up to 2,000 Points per Scan Line
Fast Frame Rates
Scan Challenging Materials
Highly Accurate and Repeatable
Contact & Non-Contact Measurements
Acquiring this new Faro Edge Scan Arm HD will allow American Hydroformers to probe virtually any part or tube and collect all of the data needed to reproduce it.  With up to 2,000 actual points per scan line, extreme resolution and high accuracy, we are able to reproduce even the most intricate parts and components. The actual setup of the scanning arm features an extra wide scan stripe as well as fast frame rates. This allows for increased productivity with the large coverage area and the reducing scanning times.
In addition to the Faro Edge Scan Arm HD, our in-house capabilities also include the utilization of AutoForm Hydro simulation software as well as FEA simulations. Our team of engineers are trained and regularly updated on this software which provides a comprehensive understanding and analysis of the entire hydroforming process. By employing this software in-house and utilizing the simulation process, we supply our customers with rapid verification, shorter development time, and improved process reliability.
Easily Identify Forming Issues
Rapid Tool Design
Accurate Springback Simulation
Quality & Cost Improvements
Reduced Development Time
Improved Reliability
Lower Material & Production Costs
By enabling better price controls and reduced tooling expense, American Hydroformers provides a cost-effective source for part production. Unlike other metal forming techniques, hydroforming allows for increased part strength, lower part weight, and greater design flexibility, while also improving overall part quality. Contact American Hydroformers to see how you can reduce your tooling and part costs.
---
---
---