After the hydroforming process is completed, the complex contours and unusual features of a finished part typically require additional laser welding or trimming. Currently, we employ 5 independent, 5-axis, fully automated laser cells. Configured for cutting, piercing, and etching operations, our lasers are optimized for speed, accuracy and repeatability in three-dimensional final trimming operations. The laser cutting heads are mounted on a six axis robot and programmed to cut out hole and slot patterns on top of cutting parts to the correct length. These lasers feature two of the largest work envelopes available to accommodate large panel laser trimming. All of our Trumpf and Prima lasers are also beneficial for loading both large and small numbers of Hydroformed parts for laser cutting/trimming.
Prima PRC DL2200 2500W CO2 Laser
The PRC DL2200 is a powerful, 5-Axis, CNC laser cutter. With a 96"x120" sheet size, this machine is capable of large scale, precision cutting.
CNC Laser Cutter
Sheet-W (In.): 96"
Sheet-L (In.): 120"
Wattage: 2200w
X-Travel: 126"
Y-Travel: 88.56"
Z-Travel: 31.49"
Prima CRG FE/S10H 3500W CO2 Laser
The CRG FE/S10H is a CNC laser cutter that combines power, speed and size. This 5-Axis, CO2 laser provides a large working space that can accommodate sheets as large as 96"x120".
CNC Laser Cutter
Sheet-W (In.): 96"
Sheet-L (In.): 120"
Wattage: 3500w
X-Travel: 126"
Y-Travel: 88.56"
Z-Travel: 31.49"
Trumpf Fanuc R-J3 Laser System
The Trumpf Fanuc R-J3 Laser system employs the latest in advanced laser and control technology. Featuring a 6-axis, Fanuc Arcmate 100I MIG welding robot, the laser resonator has an average output of 120w.
CNC Laser Cutter
Axes: 6
Payload: 13.2277lbs
Reach: 53.85827"
Repeatability: +/- 0.1mm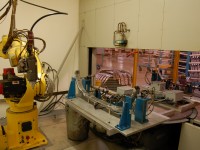 Trumpf TLF 3000 Turbo 3000W
The Trumpf TLF 3000 is a CNC laser that specializes in high precision sheet cutting and trimming. The laser output and beam quality of the Trumpf TLF 3000 enables cutting on thicker materials and reduces heat transfer.
CNC Sheet Laser
3000x1500x115 Working Area
Wattage: 3000w
Maximum Workpiece Weight: 1565.28lbs
Maximum Positioning Speed [m/min.]: 60/85
Maximum Material Thickness ST/VA/AL [mm]: 20/12/8
Amada 367V Apelio III 5000W
The Amada 367V is a dual combination laser and hydraulic punch machine. This 33 ton, high speed punch press can process 60" x 144" sheets and provides a maximum of 180 hits on one inch centers.
Hydraulic Punch Laser Combination Machine
Maximum Sheet Size: 60" (Y) x 144" (X)
Maximum Axis Travel: 60" (Y) x 72" (X) 11.8" (Z)
Press Capacity: 33 Tons
Press Stroke: 1.575"
Press Speed: 220 SPM
Maximum 180 Hits on One-Inch Centers
1.25" Auto Indexing Stations