What Is Tube Hydroforming? All you need to know.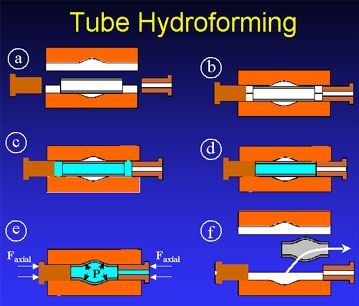 Whether you are well-informed or brand-new to the subject, here is a primer on the basics of tube hydroforming. Read on to discover more about the process, the materials, the products, and the benefits.
Process
Simply put, hydroforming is the process of shaping ductile metals into desired pieces using either high or low pressure from hydraulic fluid. A hollow tube is placed into a negative mold, and fluid is pumped into the mold until the pressure shapes the material into the desired form. The fluid is removed and the product is finished.
Materials
Tube hydroforming can be done on metals including aluminum, brass, stainless steel, and low alloy steel.
Products
Tube hydroforming is used to make car frames, particularly high-end sports models. Specifially, engine cradles, suspension, radiator supports, and instrument panel beams are manufactured in this manner. Aluminum bicycle frames use this technology. And additionally, the brass tubes of Yamaha saxophones are made with this process.
Benefits
Tube hydroforming is desirable because it results in lightweight and structurally stiff products. The process is also very cost-effective, requiring few tools and minimal maintenance. Tube hydroforming provides an easy process for creating complex shapes, reducing the need for welding operations. Compared to other methods, tube hydroforming leaves a smooth finish and an appealing appearance.
American Hydroformers is based in Fort Wayne, IN, and specializes in the hydroform tube forming process. Whether you work in appliances, automotive, or plumbing fields, we are here to help you! Visit our "What Is Hydroforming" page to learn more about the process we use and see before and after photos.
Contact us today to request a quote and get more information about our services!
Error: Contact form not found.
---
---
---